Carolina Godiva Track Club

About Godiva
Do you like to run? Are you interested in meeting other people in the Research Triangle area who share your interest? If so, you're in the right place.
Founded in 1975, Godiva Track Club has over 450 members of all ages and abilities, and welcomes new members.
Godiva offers an annual Running Start program for those who are new or returning to the sport.  The club presents popular running events like  the Umstead Trail Marathon. Godiva's annual calendar also features weekly summer track meets, and a winter series of cross country runs. There are regularly scheduled group runs most days of the week.
Please check out more reasons to join Godiva, and either sign up on line or mail us a membership form.
Oh yes, one more thing:  You may wonder why we're called the Godiva Track Club.  Here's the story.
Here's the schedule for the entire 31st Annual Godiva Track Club Winter Series. All races begin at 10:00 am, except for the New Year's Day Run which starts at 1:00 pm.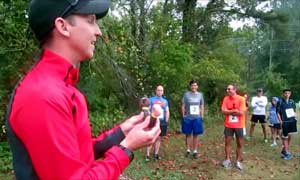 Ronnie Weed's explanation of the Run for the Donuts rules is a mouthful. Watch the video shot by Shannon Johnstone.
Misery Run - Sunday, November 9th - Results , Photos, and More Photos
Couch Mountain Run - Sunday, December 14th Results / Age Graded
New Year's Day Run - Thursday, January 1st
Eno Equalizer - Sunday, January 18th
Geezer Pleezer - Sunday, February 15th
Hard Climb Hill - Sunday, March 8th
View the complete Winter Series Schedule for details about  distances, locations, and who to contact with questions. All runners are welcome.  Godiva club members can now sign up for the series online. For those who prefer paper entries, here's a PDF of the series registration form.
Registration for Godiva's 12th Annual Umstead Trail Marathon is now closed.  Watch the race website for any announcements about a possible second chance signup period in January.   Here's a recap of last year's marathon, with some race day photos and info about how this popular race gets organized.

---